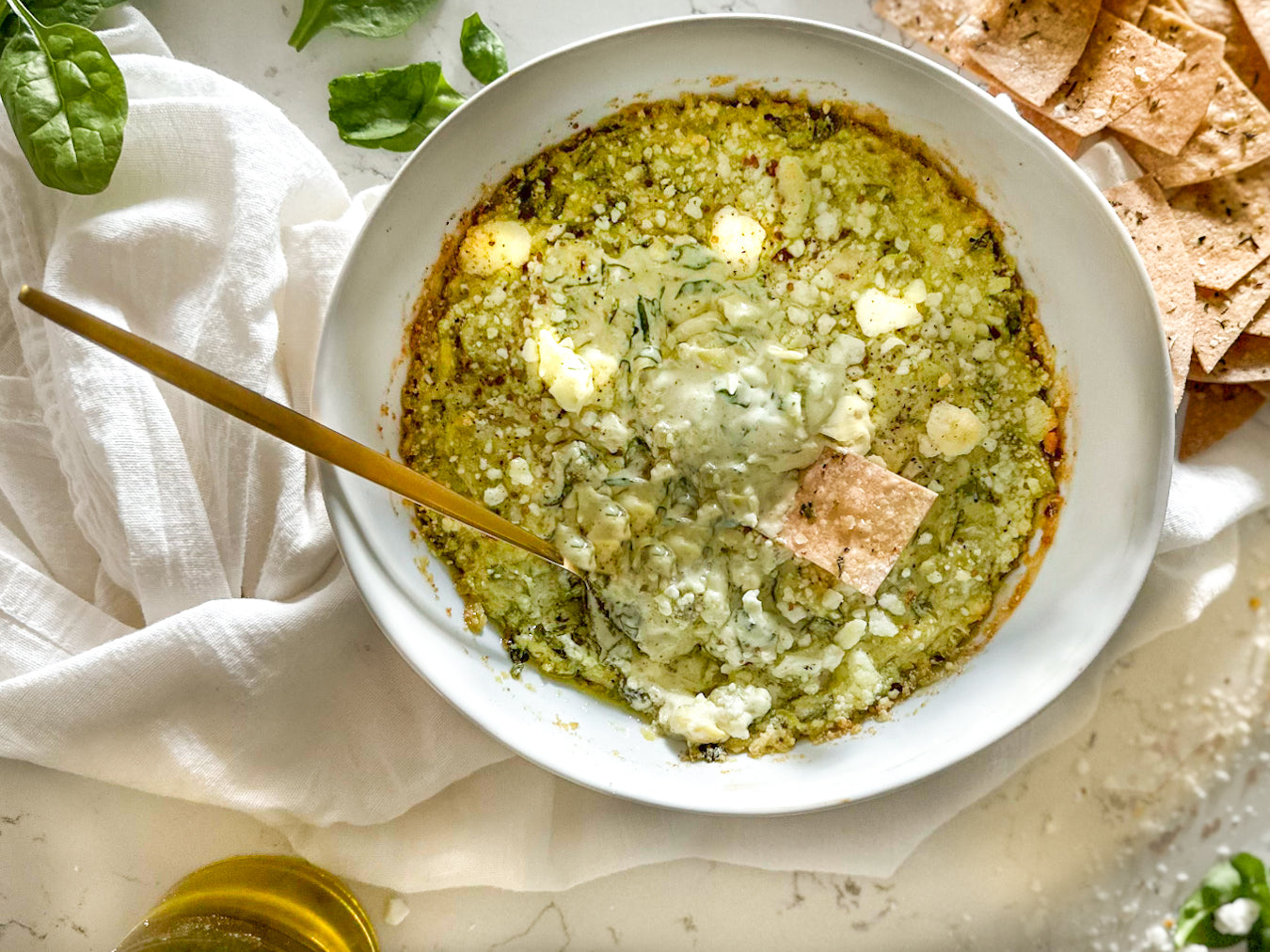 September 10, 2023
Warm Spinach & Artichoke Dip Recipe
Creamy warm hearty dip with GF crackers for fall snacking!
Indulge in our delectable Warm Spinach Artichoke Dip, the ultimate crowd-pleaser. A creamy, hearty, and oh-so-satisfying snack. It's perfect for dipping our homemade Cassava Crackers in. Get ready to elevate your snack game!
Makes: 4 servings
Prep Time: 15 mins
Cook Time: 20 mins
Ingredients:
Cassava Crackers:
4 cassava tortillas
olive oil for brushing
½ tsp dried oregano or Italian herb mix
Sea salt for sprinkling
Dip:
1 cup baby spinach, chopped
1 cup artichoke hearts, chopped

¾

cup avocado oil-based mayonnaise
¼ cup cream cheese (we used almond milk based)
¼ cup goat cheese (optional)
2 Tbsp nutritional yeast
2 medium cloves garlic, minced
½ tsp onion powder
½ tsp chili flakes
sea salt and fresh cracked pepper to taste
Instructions:
Preheat the oven to 350°F (175°C).
Brush the cassava tortillas lightly with olive oil, sprinkle with sea salt and dried herbs. Cut  into desired cracker shapes and transfer to a baking sheeting. Bake for 8-10 minutes or until lightly golden and crispy. Set aside, they will crisp up completely while they cool.
In a mixing bowl, combine the chopped spinach, artichoke hearts, mayonnaise, nutritional yeast, minced garlic, onion powder, chili flakes, salt, and pepper. Mix well. If the mixture seems to dry add a splash of the canned artichoke juice.
Transfer the mixture to a baking dish and sprinkle with goat cheese (if using), bake for 12-15 minutes until slightly bubbly and golden around the edges.
Serve the warm spinach and artichoke dip with the cassava crackers for dipping.
Note:
For a plant-based alternative, omit the goat cheese or replace it with some nutritional yeast to still get that "cheesy" flavor.