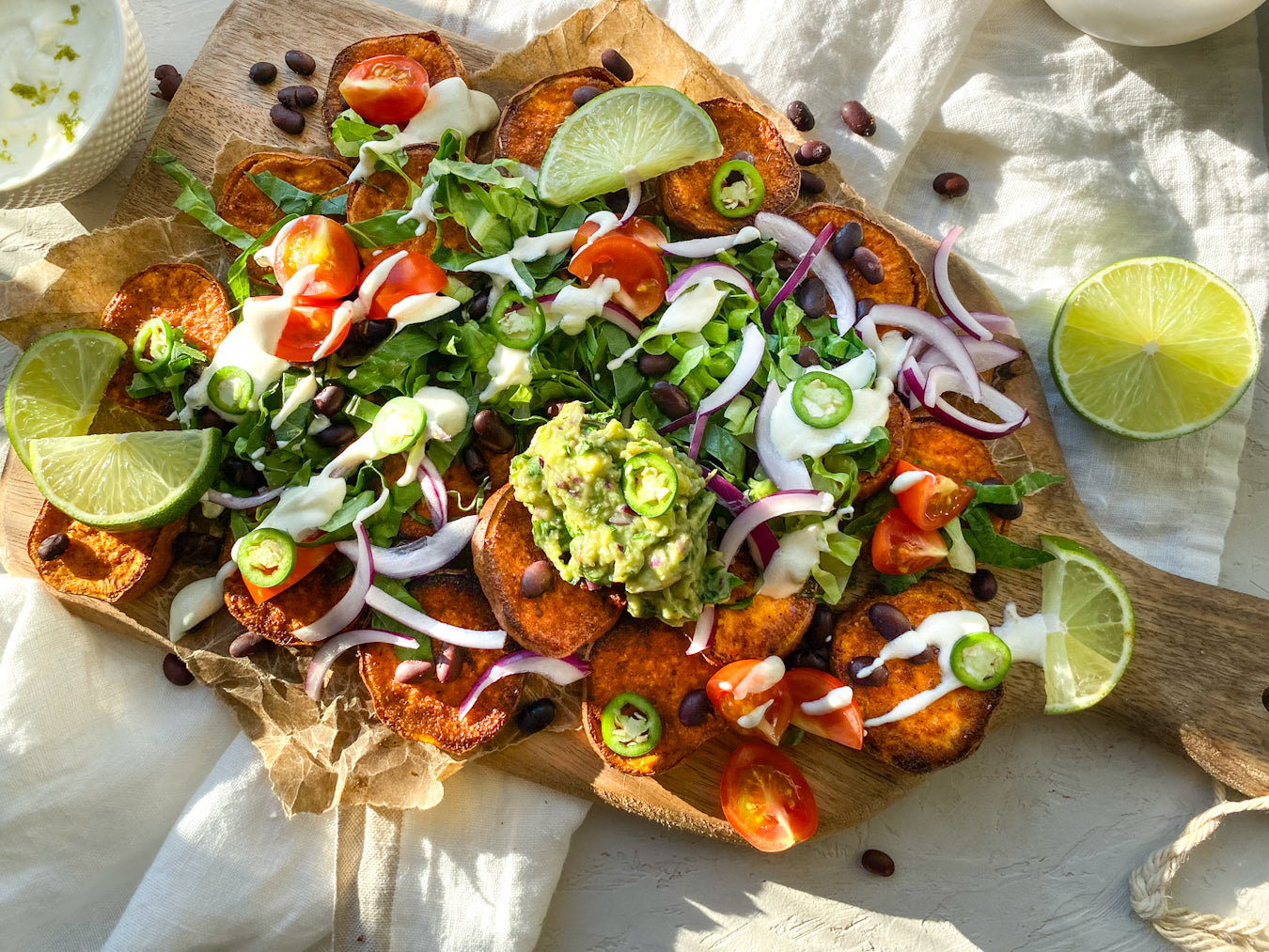 July 23, 2023
Sweet Potato Nachos Sheet-Pan Dinner Recipe
Roasted sweet potato rounds loaded with all the toppings for a tasty healthy dinner in 35 minutes.
Now you can make nachos a weeknight staple with this sheet pan sweet potato version. It's a healthier twist on a classic favorite. Roasted sweet potato rounds serve as the base to pile on all our favorite nacho toppings. From the tangy lime crema made with Greek yogurt to the cilantro-infused guacamole, every bite is as satisfying as it gets. Not only is this dinner easy to prepare but it's also loaded with fiber and vibrant colors, which means tons of antioxidants! Gather loved ones and indulge together or save the leftovers for the best meal-prepped lunch ever.
Serves: 2-4 portions
Prep Time: 9 mins
Cook Time: 25 mins
Ingredients:
Nachos:
3 medium sweet potatoes, sliced into ¼-inch thick rounds
2 tablespoons olive oil
1/2 teaspoon paprika
1/2 teaspoon cumin
1/2 teaspoon garlic powder
sea salt and pepper, to taste
1 cup cherry tomatoes, quartered
1 cup canned black beans, rinsed and drained
1 cup chopped romaine lettuce
1/4 cup diced red onions
½ cup fresh cilantro, for garnish
½ cup guacamole, optional
Lime Crema:
3/4 cup Greek yogurt
1/2 lime, juiced and zested
2 tsp olive oil
sea salt, to taste
Instructions:
Preheat the oven to 425°F (220°C) and line a baking sheet with parchment paper.
In a large bowl, toss the sweet potato rounds with olive oil, paprika, cumin, garlic powder, salt, and pepper until evenly coated.
Arrange the seasoned sweet potato rounds in a single layer on the prepared baking sheet. Bake for 20-25 minutes, or until the sweet potatoes are golden brown.
Meanwhile, prepare the lime crema by combining Greek yogurt, lime juice and zest, olive oil and salt in a small bowl. Stir well to combine.
Once the sweet potato rounds are ready, remove them from the oven and let cool slightly.
To assemble the nachos, arrange the sweet potato rounds on a serving platter. Top with cherry tomatoes, black beans, chopped romaine lettuce, diced red onions, and fresh cilantro.
Drizzle the lime crema over the nachos. Optionally, serve with simple guacamole on the side. Dig in and enjoy these flavorful and nutritious Sweet Potato Nachos!
Note:
Feel free to customize your nachos with additional toppings like jalapeños, crumbled feta, your favorite salsa and even beeya. These nachos also make an awesome meal prep if you like to eat leftovers for lunch, just reheat the baked ingredients the next day and top with all the cold toppings for a super delicious and nutritious lunch in minutes!