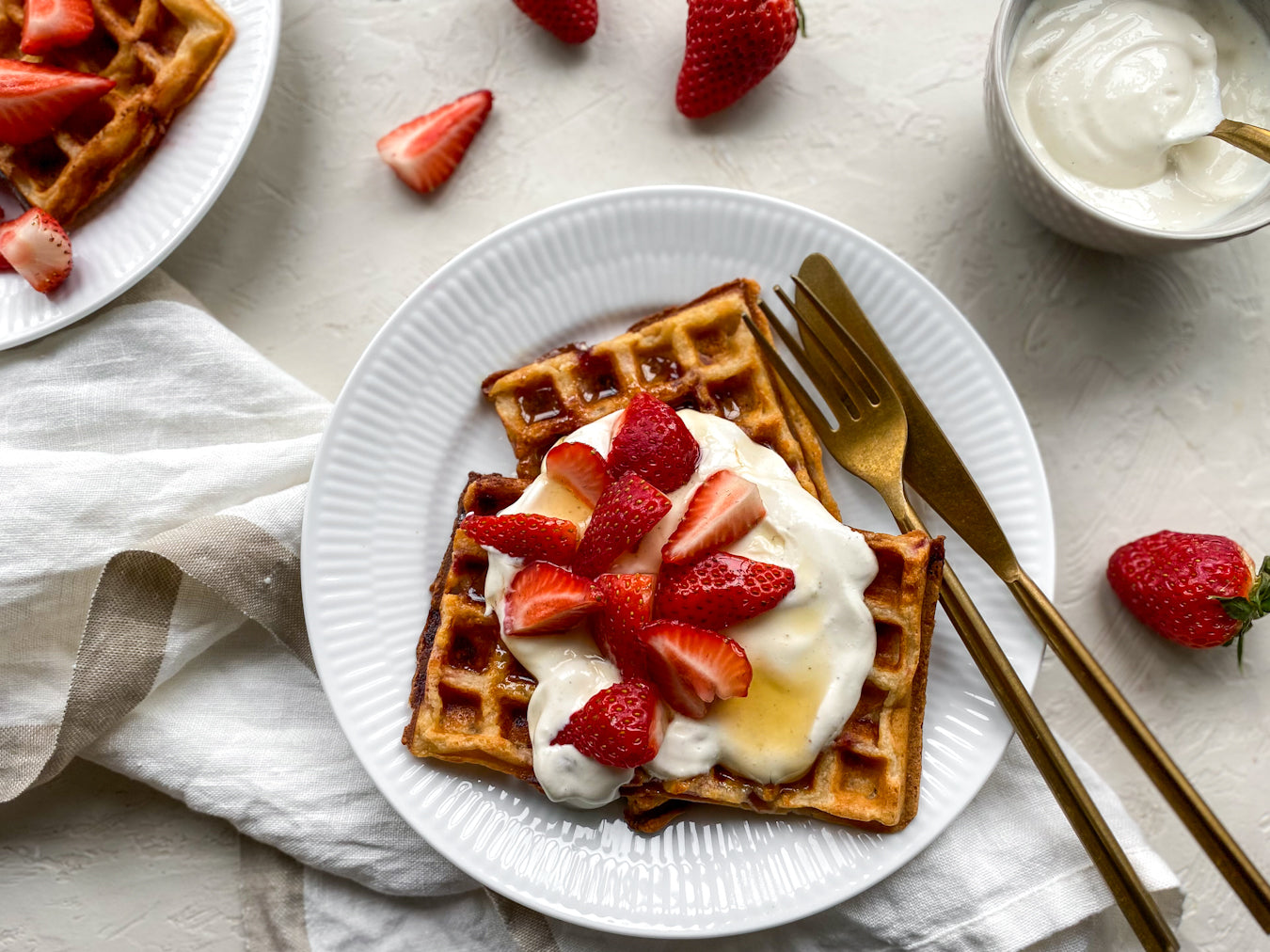 April 22, 2023
Strawberry Cheesecake Waffles Recipe
For those mornings when you just gotta have something sweet but you want to keep things balanced.
Looking for an easy and nutritious waffle recipe that satisfies your cravings for light, fluffy, sweet, crispy goodness? Our strawberry waffles have got you covered! Made with a combination of almond and oat flour, these waffles boast the perfect texture, and they are topped with a quick-to-whip-up cheesecake cream.
If you feel like waffles can't be a part of your healthy lifestyle, then let us assure you that it is possible to enjoy classic brunch foods like waffles while also nourishing your hormones at the same time. It's all about keeping your carbs and sweets balanced with protein, healthy fats, and fiber to support a healthy blood sugar response. Our strawberry cheesecake waffles deliver on all fronts, making them an excellent option! 
And the best part? This recipe can work as a base recipe for waffles in general. You can swap out the strawberries for blueberries or enjoy them plain topped with bananas and nut butter.
So, what are you waiting for? Whip up a batch of our delicious strawberry waffles today and enjoy a balanced indulgence that's both nutritious and satisfying. 
Makes: 4 waffles 
Prep Time: 15 mins
Cook Time: 15 mins
Ingredients:
Waffles:
½ cup almond flour

½ cup oat flour

1 Tbsp arrowroot starch (or cornstarch)

a pinch of sea salt

1 tsp baking powder

1 Tbsp olive oil or melted ghee

1 Tbsp maple syrup

1 large egg 

⅓ cup milk of choice

½ tsp vanilla extract

⅓ cup fresh strawberries, chopped
Cheesecake Cream:
¾ cup cottage cheese

1 tsp lemon juice

2 Tbsp milk of choice

½ tsp vanilla extract 

2 tsp maple syrup
Optional Toppings:
fresh strawberries

maple syrup or honey
Instructions:
Preheat your waffle iron.

Combine all of the dry ingredients in one bowl and all of the wet ingredients in a separate bowl. Whisk the dry ingredients until combined, then whisk the wet ingredients until well combined. 

Add the wet ingredients to the dry ingredients and whisk until smooth.

Gently fold in the chopped strawberries and grease the waffle iron with a bit of oil.

To make the waffles, pour some of the batter into the center of the waffle iron and cook until your waffle iron lets you know that the waffles are done, roughly 3-4 minutes. Avoid over-cooking the waffles or they may become dry and crumbly. 

Use a fork to carefully remove the cooked waffle, then repeat with the remaining batter. Be sure to grease the waffle iron between each waffle. 

While the waffles are cooking, make the cheesecake cream by combining the cottage cheese, lemon juice, milk, vanilla extract, and maple syrup in a blender or food processor. Blend until smooth and creamy.

Serve the waffles warm with a dollop of the cheesecake cream, fresh strawberries, beeya, and maple syrup or honey for extra sweetness if desired though not needed.
Note:
Leftover waffles can be stored in an airtight container in the fridge for up to 4 days, or in the freezer for up to 3 months. Pop them in the toaster to reheat!