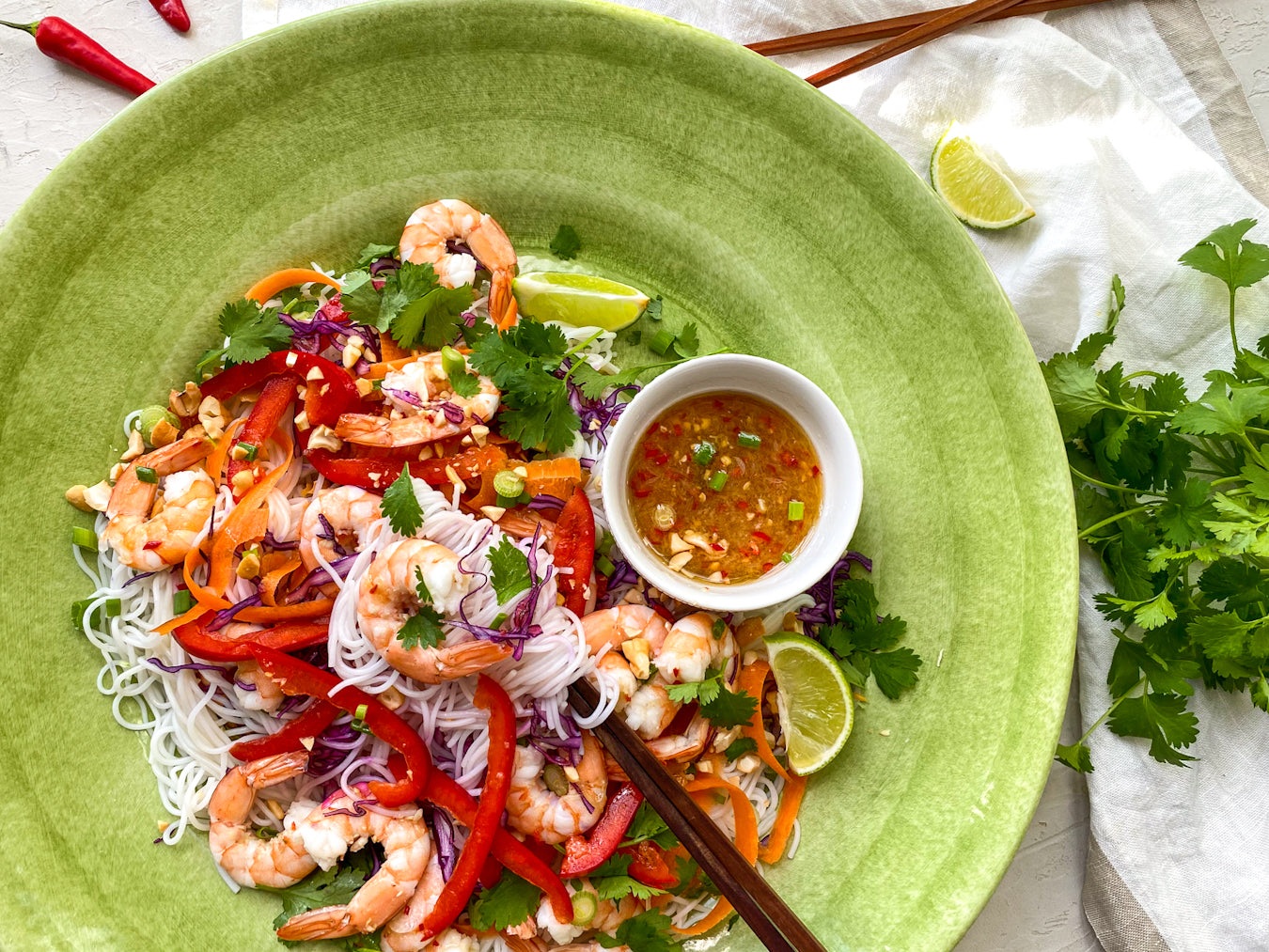 June 11, 2023
Spicy Lime Shrimp Noodle Salad Recipe
Take your salad game to a whole new level with this zesty recipe. 
A tantalizing meal that's full of vibrant flavors and colors. This salad brings together succulent shrimp, sticky rice noodles, crisp veggies, and a zesty cilantro lime vinaigrette that will have you making in on repeat all summer. We like to top everything off with a sprinkle of crunchy cashews or one of our beeya seed cycling blends. Every bite is tangy and savory and super refreshing. Perfection on warm days when you're craving a light but satisfying meal. 
Makes: 2 servings
Prep Time: 15 mins
Cook Time: 5 mins
Ingredients:
Salad:
6 ounces rice noodles

8 ounces cooked shrimp, peeled and deveined

2 cups mixed veggies (such as shredded carrots, sliced bell peppers, chopped cucumber, red cabbage, edamame beans, or green onions)

¼ cup fresh cilantro leaves, chopped

½ cup salted roasted cashews, roughly chopped
Cilantro Lime Vinaigrette:
2 Tbsp fish sauce

1 Tbsp toasted sesame oil

2 Tbsp fresh lime juice

1 Tbsp honey or maple syrup

1 garlic clove, minced

½ tsp grated fresh ginger

½ hot chili pepper, minced (we used serrano)
Instructions:
Cook the rice noodles according to package instructions. Drain and rinse under cold then set aside.

In a small bowl, whisk together the fish sauce, sesame oil, lime juice, honey, minced garlic, grated ginger, and chili pepper to make the vinaigrette.

To assemble, spread the rice noodles out on a platter then top with the mixed veggies, followed by the shrimp and chopped cilantro.

Pour the cilantro lime vinaigrette over the salad and garnish with chopped cashews or beeya. Serve with extra lime wedges and cilantro if desired. 
Note:
To make this meal even more blood sugar friendly you can try swapping out the rice noodles for another type of noodle called shirataki noodles, which also happen to be full of unique gut supporting fiber known as glucomannan.