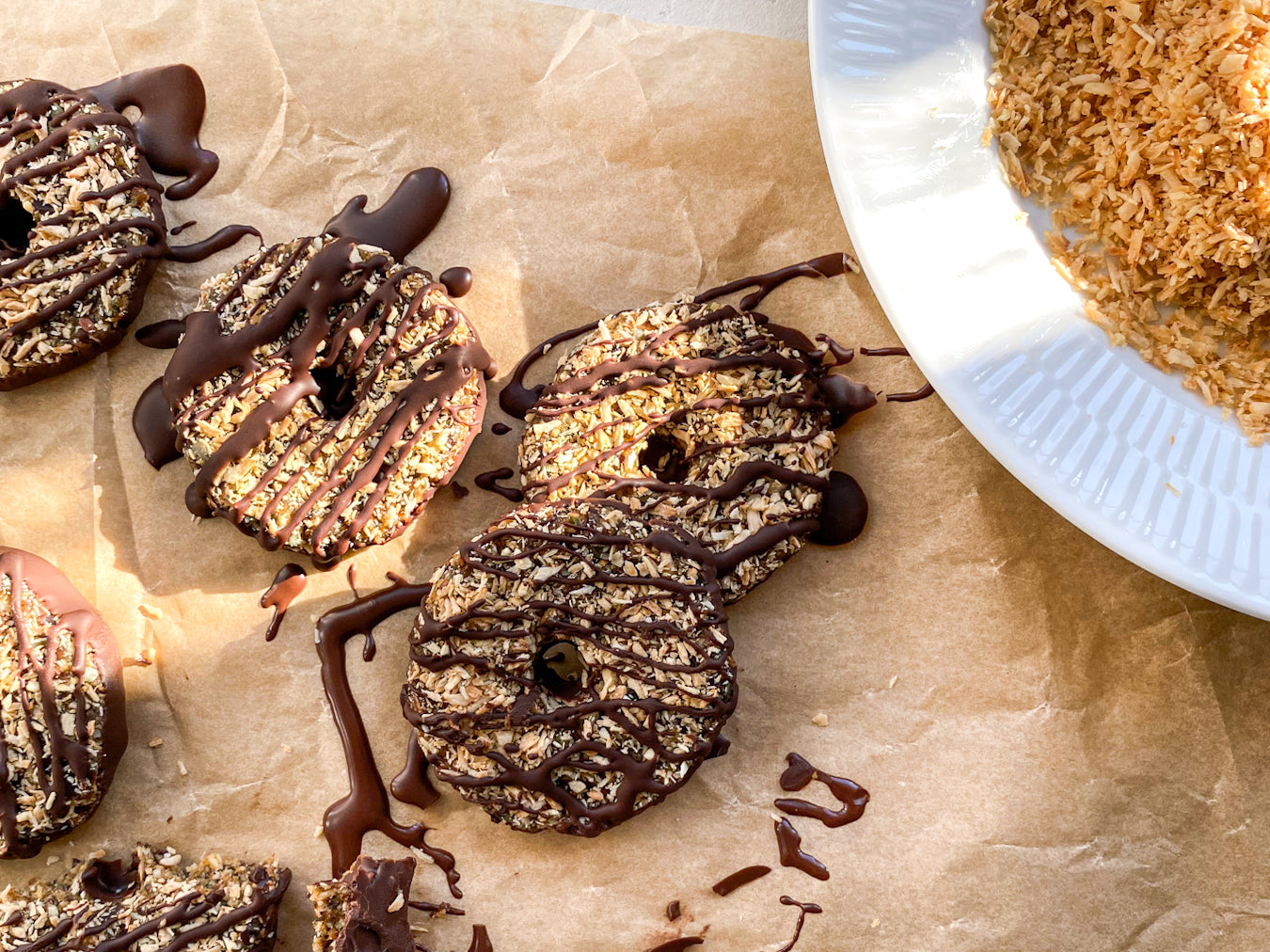 May 26, 2023
Seed Cycling Samoa Cookies Recipe
All we can say is… they're perfection!
Makes: 6 cookies (½ scoop of beeya each)
Prep time: 12 mins + chill time
Ingredients:
1 cup toasted shredded coconut (⅔ cup in mix, ⅓ cup to coat outside)

¾ cup chopped fresh dates

pinch of sea salt

1 tsp vanilla extract

3 scoops beeya seeds

3 Tbsp melted dark chocolate
Steps:
Combine ⅔ cup *toasted shredded coconut, ¾ cup chopped pitted dates, a good pinch of sea salt, 1 tsp of vanilla extract, and 3 scoops of beeya to a food processor. Mix until everything comes together into a ball.

Divide the dough into 6 portions and roll into balls. Gently press the the balls flat, then shape the edges round again if they crack so that you end up with ¼-inch thick discs.  

Press the discs gently in the remaining toasted coconut to coat and use a straw or chopstick to make a hole in the center (this step is not necessary, they tastes just as good without the hole).

Chill in the freezer for 20 minutes then dip the bottoms of each cookie in melted dark chocolate and place on parchment paper. Drizzle the tops with more melted chocolate and allow to set. We like to keep ours in the freezer but the fridge work too. 
*You can toast shredded coconut yourself in the oven by spreading it out on a sheet pan and baking at 375°F for a few minutes. Keep an eye on it as it goes quick and burns easily.