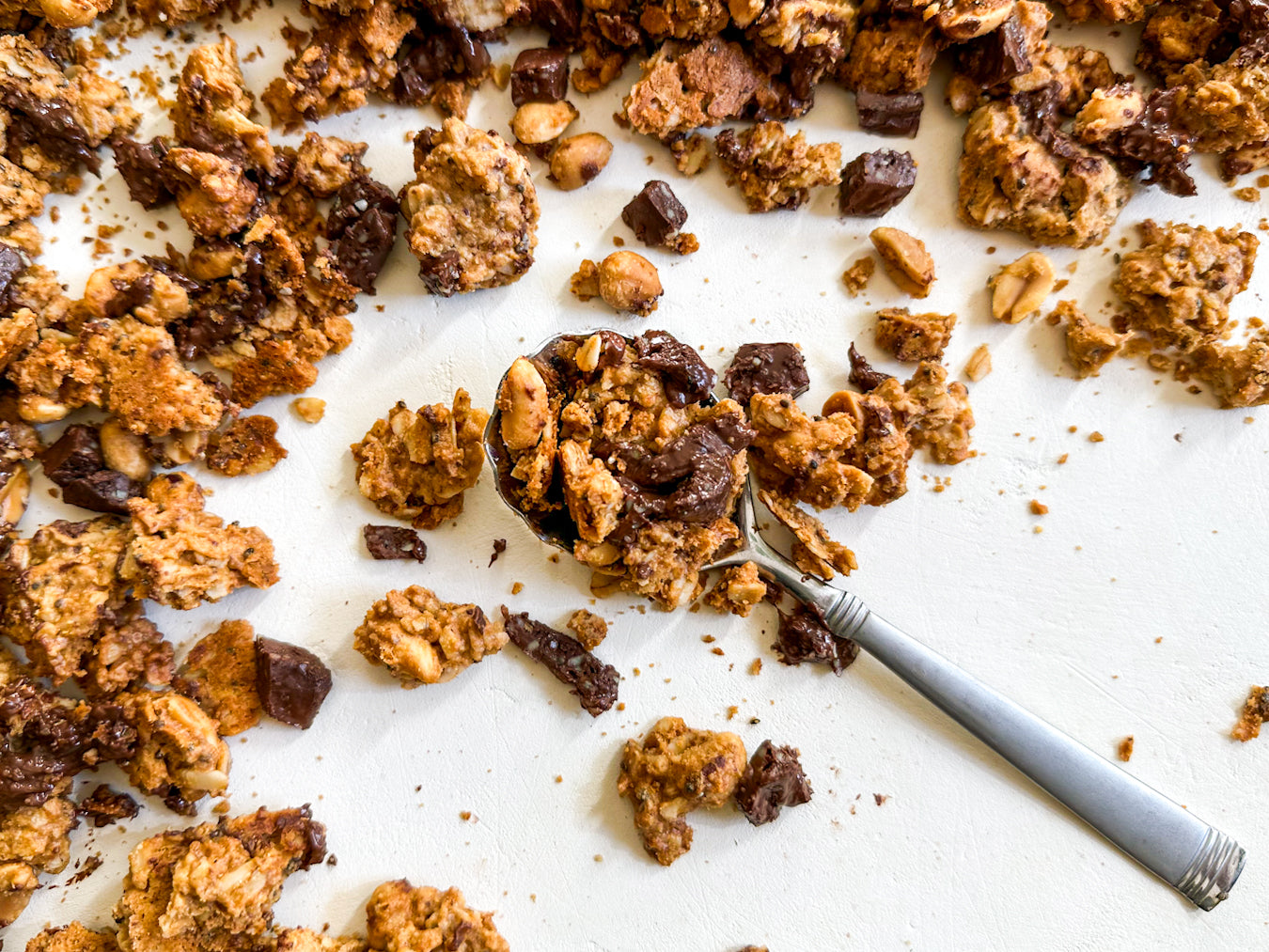 October 15, 2023
Seed Cycling Peanut Butter Cup Granola Recipe
A nutty, chocolatey way to fuel your day.
The perfect blend of salty peanuts and sweet chocolate come together in our all time favorite Peanut Butter Cup Granola. This granola even actively supports your hormonal health through the power of seed cycling. This isn't just a delightful granola, it's a tasty path to harmonious hormones.
Our Peanut Butter Cup Granola features a base of natural peanut butter, pure maple syrup, and some beeya-fied chocolate chunks. Beeya is more than just a tasty addition; each scoop of beeya in this delicious granola provides your body with the nourishment it craves to keep your hormones in check. 
Our seed cycling blends are designed to support hormonal equilibrium by supporting the balance between estrogen and progesterone levels. And with our Peanut Butter Cup Granola, your taste buds get to join the wellness journey. So, get ready for your next complete obsession – a fusion of flavor, satisfaction, and well-being in every bite.
Makes: 6 servings
Prep Time: 8 mins
Cook Time: 25 mins
Ingredients:
¼ cup natural peanut butter
3 Tbsp pure maple syrup
2 Tbsp melted ghee or grass-fed butter
1 tsp vanilla extract
½ tsp sea salt
dash of nutmeg
1 cup old fashioned oats
¼ cup peanut
¾ cup chopped dark chocolate
3 scoops beeya
Instructions:
Preheat the oven to 325F. Combine the peanut butter, maple syrup, melted butter, vanilla, salt, and nutmeg in a large bowl. Whisk until smooth.
Fold in the oats and peanuts until evenly coated.
Pour the granola mixture out onto a parchment paper lined baking sheet. Use a spatula to spread the granola out into one fairly even layer. Transfer to the oven and bake for 25 minutes. 
While the granola bakes, prepare the seed cycling chocolate. Melt the dark chocolate in a bowl then stir together with all 3 scoops of beeya. Spread out onto a parchment paper lined tray (about ¼-inch thick) and transfer to the fridge or freezer to cool and set.
Keep an eye on the edges of the granola while it bakes to avoid burnt edges. If your oven is not evenly heated it may brown faster on one side of the pan. If so, use a spatula to fold the granola edges toward the center, but avoid over mixing or the granola won't end up chunky. 
Once the granola has baked for 25 minutes, remove from the oven and allow to cool completely before the next step.
Chop the hardened chocolate into bite-sized chunks. Toss the chocolate chunks together with the peanut butter granola and enjoy!
Note:
Each serving contains ½ scoop of beeya. To increase the amount of beeya per serving to a full scoop, add 3 extra scoops of beeya to the final granola mixture and toss to combine.