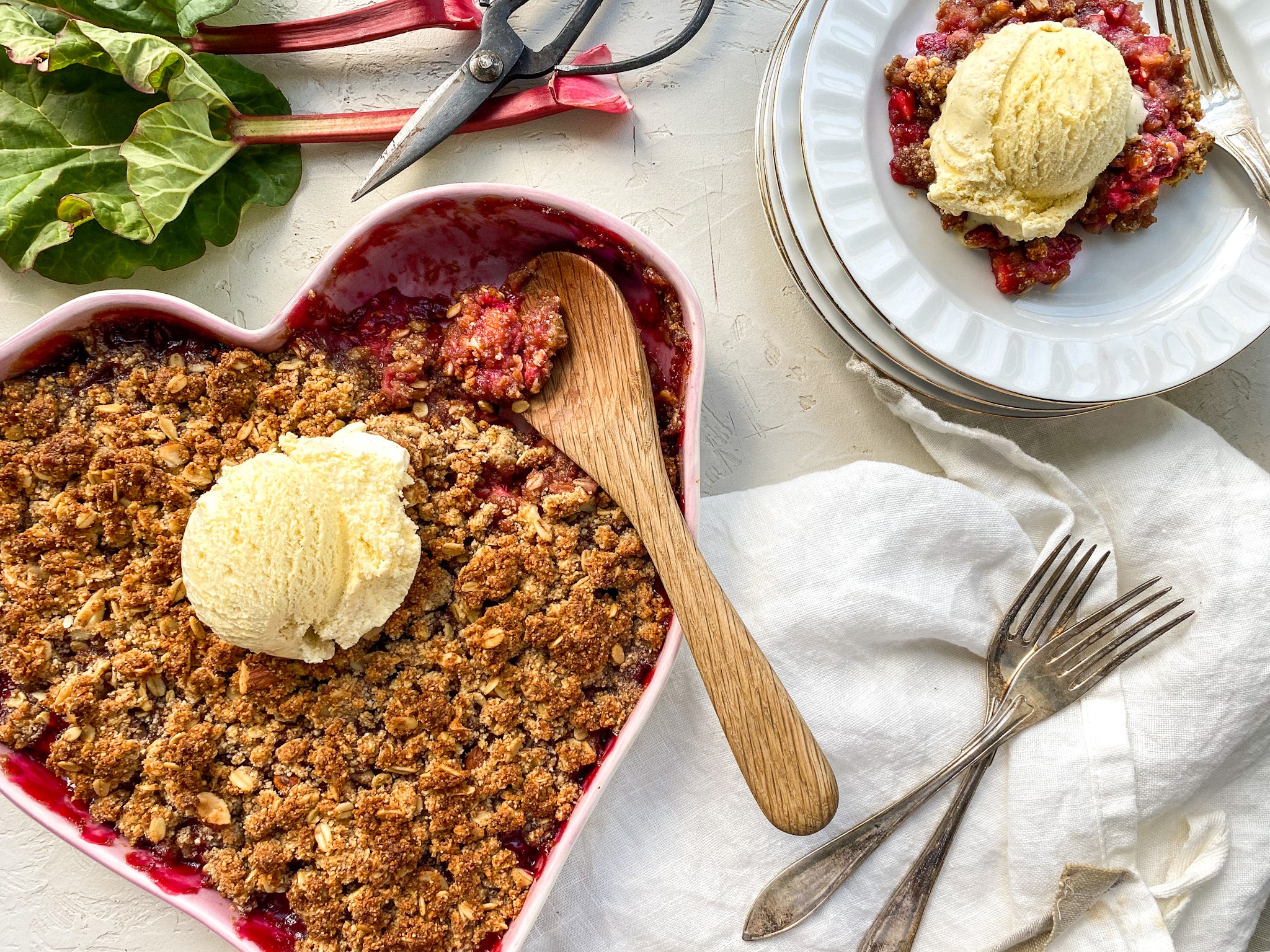 May 07, 2023
Raspberry Rhubarb Crumble Recipe
What would spring be without a perfectly sweet & tangy rhubarb crumble?!
Sprinkle your beeya on top of this insanely delicious dessert! It's sure to satisfy your sweet cravings without throwing your hormones out of whack. Our crispy jammy raspberry rhubarb crumble is a healthier version of the classic rhubarb crisp. 
Instead of refined sugar, we've sweetened it with honey and coconut sugar. For the crumble, we've swapped traditional flour for almond and oat flours, making it gluten-free and higher in fiber. 
It's so delicious that no one will even know it's healthy! Plus it's super easy to make. 
Makes: 6 servings
Prep Time: 12 mins
Cook Time: 35 mins
Ingredients:
Rhubarb:
3 cups rhubarb, cut into ½-inch pieces, leaves removed

1 cup raspberries, fresh or frozen

⅓ cup + 1 Tbsp honey

2 tsp fresh lemon juice

½ tsp vanilla extract

1 Tbsp cornstarch or arrowroot flour
Crumble:
½ cup almond flour
½ cup oat flour
½ cup old-fashioned oats
¼ cup raw almonds, roughly chopped
½ cup coconut sugar
5 Tbsp room temp butter (we used salted grass-fed)
1 pinch of sea salt (we used flakey sea salt)
¼ tsp nutmeg
Optional toppings:
vanilla ice cream (see our fav picks below)
Instructions:
Preheat the oven to 375°F.

In a large bowl, combine the chopped rhubarb, raspberries, honey, lemon juice, vanilla extract, and cornstarch. Toss gently until everything is evenly dispersed.

In another bowl, make the crumble by mixing together the almond flour, oat flour, old-fashioned oats, chopped almonds, coconut sugar, room-temp butter, sea salt, and nutmeg. Use a fork or your fingers to combine the ingredients until the mixture forms a crumbly texture.

Take an 8x8 inch baking dish or large pie form and pour the fruit mixture into it. Gently pat the fruit down then scatter the crumble mixture over the fruit evenly.

Transfer to the oven and bake for about 10 minutes or until it starts to become slightly golden on top. Then cover with foil or a sheet pan to avoid burning and continue baking for another 15-25 minutes, or until the top is golden brown and the fruit mixture is bubbling. 

Once done, remove the crumble from the oven and let it cool for 10-15 minutes before serving.

Serve the raspberry rhubarb crumble warm with a scoop of vanilla ice cream (see our tips below) if desired.
Note:
If you are looking for some new ice cream recommendations then some of our current favorites include So Delicious, Nubocha, or just your favorite vanilla ice cream! We also love to mix some vanilla, maple syrup, and greek yogurt together for an easy creamy vanilla topping.