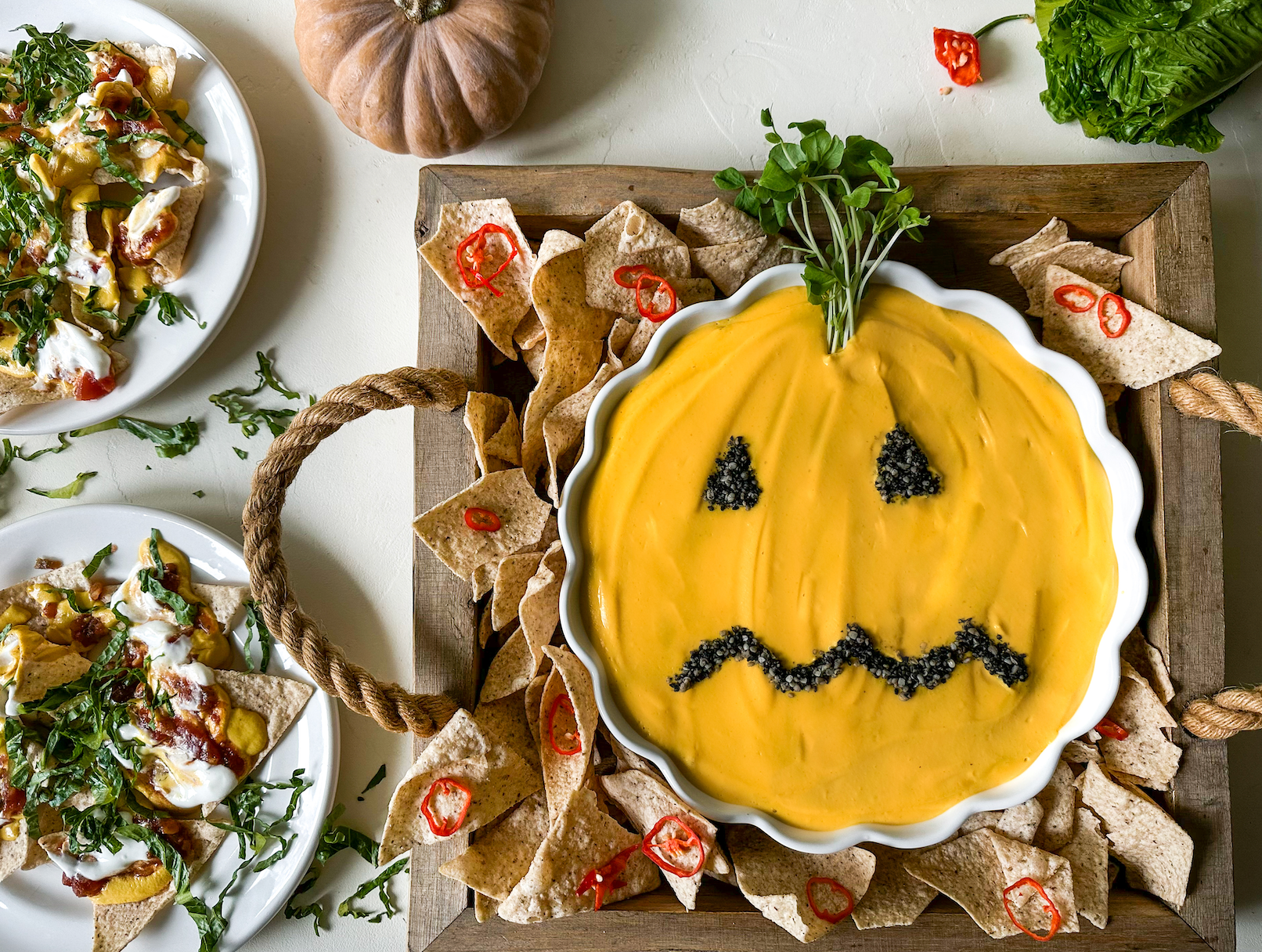 October 29, 2023
Pumpkin Nacho Cheese Dip Recipe
Perfect for parties or any time you're craving cheesy goodness.
Indulge in our Dairy-Free Pumpkin Nacho Cheese Dip, the ultimate party pleaser! Whether you're gearing up for Halloween festivities or just craving a cheesy snack, this dip has you covered. It's perfectly velvety and creamy, and full of cheesy flavor with a hint of spice that pairs perfectly with other nacho toppings like salsa, sour cream, and pickled jalapeños. You can also use this dairy-free cheese sauce in other dishes besides nachos, see our tips in the notes below for more ways to enjoy this delectable recipe. 
Makes: 4-6 servings
Prep Time: 10 mins
Cook Time: 15 mins
Ingredients:
Pumpkin nacho cheese:
1 cup boiled cashews (hot liquids reserved)
2 Tbsp olive oil
½ cup canned pumpkin
1 ½ Tbsp fresh lemon juice
1 ½ tsp sea salt
2 Tbsp nutritional yeast
½ tsp chipotle or chili powder
½ tsp onion powder
¼ tsp cayenne pepper
Optional extras:
Pea shoots or cilantro springs for the pumpkin stem
Beeya Phase 2 or coarse ground black pepper for jack-o-lantern look
Tortilla chips (we used Siete cassava tortillas)
Sliced hot peppers or pickled jalapeños 
Salsa or hot sauce
Sour cream
Shredded lettuce
Instructions:
Boil a little over ¾ cup of raw cashews in 2 cups of water for 15 mins. Once they are done you will have 1 cup of softened cashews. After 15 minutes of boiling, drain off the cooking water but make sure to reserve 1 ½ cups of it for the next step. 
Combine all of the remaining ingredients for the nacho cheese in a high-speed blender. Add the softened cashews plus 1 cup of the hot reserved water. Blend until completely smooth, 2-3 minutes. After 2-3 minutes of mixing, stir to test thickness and adjust with small splashes of water if desired. 
Serve with tortilla chips and any other of your favorite nacho toppings. To create the jack-o-lantern look we simply stuck some pea shoots out the top of the bowl to look like a stem, then created eyes and a zig-zag mouth with our beeya phase 2 blend, though cracked black pepper works too. 
Note:
This recipe is great for more than just a festive October snack. It doesn't have a particularly pumpkiny flavor, so we love to use it year round for all sorts of dishes like, topping tacos, or some huevos rancheros. It's even good if you kick up the heat a bit and use it for spicy mac & cheese with your favorite pasta.