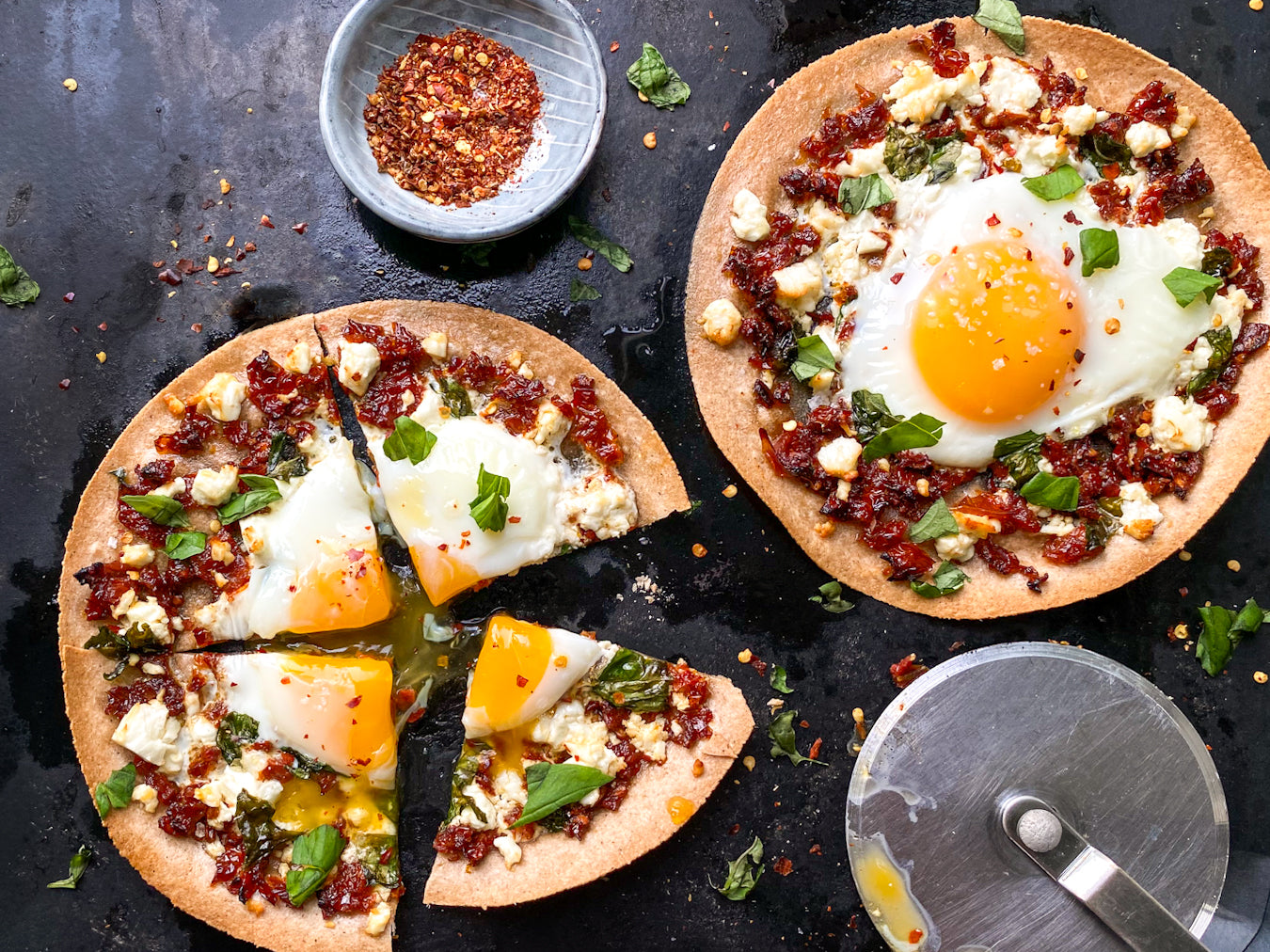 July 03, 2023
Mediterranean Breakfast Pizza Recipe
Rise and shine with our Mediterranean Breakfast Pizza, a flavorful and nutritious way to start your day.
Kickstart your morning with our mouthwatering Mediterranean Breakfast Pizza. This irresistible recipe uses a gluten-free cassava tortilla as the crust while flavors from the sun-dried tomatoes, fresh basil, and creamy feta give it that classic pizza flavor. The eggs add some satisfying protein to give you all the nutrients you need to stay feeling fueled and focused through the AM. Whether you enjoy it as a weekend brunch or a quick weekday breakfast, this Mediterranean-inspired pizza is sure to please.
Makes: 1 pizza
Prep Time: 5 mins
Cook Time: 10 mins
Ingredients:
1 large cassava tortilla (or two small)
6 sun-dried tomatoes, finely chopped
fresh basil leaves
crumbled feta cheese
2 eggs
olive oil
sea salt, pepper, and chili flakes to taste
Instructions:
Preheat the oven to 400°F (200°C). Place the cassava tortilla on a baking sheet.
Spread the chopped sun-dried tomatoes evenly over the tortilla. Tear a few basil leaves and scatter them on top. Then sprinkle crumbled feta cheese over top as well.
Create two small divots in the toppings and carefully crack the eggs into them.
Drizzle olive oil over the pizza and season with sea salt, pepper and chili flakes as desired. 
Transfer to the oven and bake for about 10 minutes or until the eggs are cooked to your desired doneness.
Remove from the oven, let it cool for a minute, and garnish with additional basil leaves. Slice and serve hot.
Note:
Customize your Mediterranean Breakfast Pizza by adding your favorite ingredients like sliced olives, roasted red peppers, or your daily dose of hormone supporting beeya.