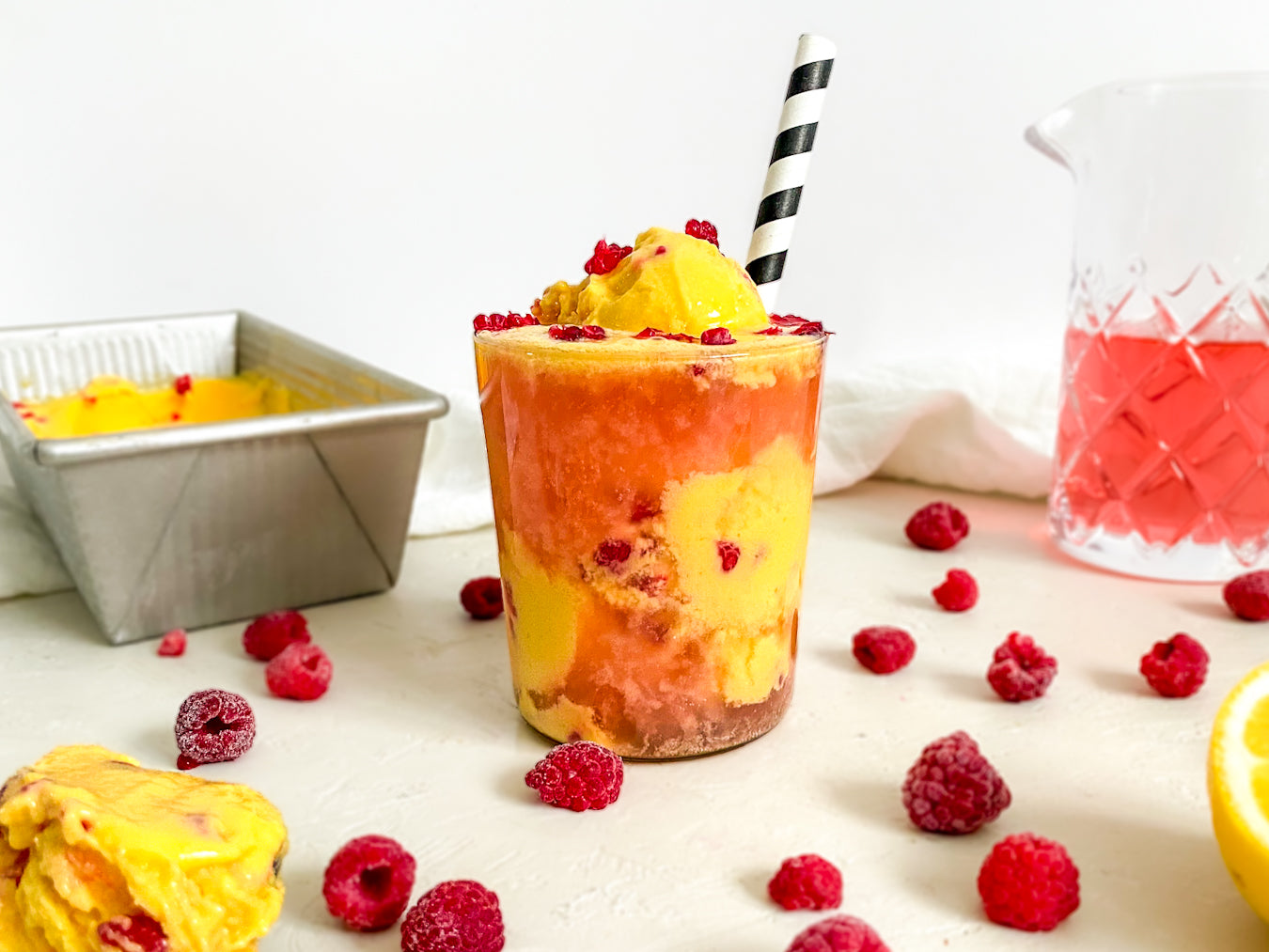 March 22, 2023
Kombucha Float with Mango Raspberry Sorbet Recipe
Get ready to scoop up a healthy twist on a classic treat with this super fun, gut healthy kombucha float.
Forget about the hassle of churning, all you need for this recipe is frozen mango, coconut cream, fresh lemon juice, frozen raspberries, and kombucha if you want to make a float. Even better is the fact that this naturally sweetened dessert actually boasts some benefits.
From the antioxidant rich raspberries, to the fiber from using whole foods, to the gut healthy probiotics in the kombucha, what's not to love? Just like classic floats, the kombucha gives it that fizzy kick! And feel free to play with the kombucha flavors. We went with raspberry but other flavors like ginger, or even lemon cayenne could be a match made in heaven too.
So go get your float on and don't be shy, let us know what you chose for kombucha flavor, we'd love to see your photos, you can tag us on Instagram and Tiktok @beeyawellness
Makes:
1 loaf pan of sorbet
Prep Time:
15 mins
Freeze Time:
3 hours
Ingredients:
4 cups frozen mango, about 20 ounces in total (chop into smaller pieces before measuring if you have very large chunks)
⅓ cup maple syrup
½ cup coconut cream
2 Tbsp fresh lemon juice
½ cup frozen raspberries
Kombucha for floats if desired (we used raspberry flavored)
Instructions:
Add the frozen mango, maple syrup, coconut cream, and lemon juice to a food processor.
Pulse and scrape down the sides until the mixture starts to come together and smoothen out.
Once the mango mixture runs smoothly leave the food processor running for about one minute to get it nice and creamy.
Break the raspberries into smaller pieces and layer them with the mango mixture in a metal loaf pan.
Cover and transfer to the freezer to firm up. After about 3 hours it is typically perfect for scooping into glasses to make floats, though it can keep in the freezer for up to 2 weeks. Just make sure to give it some thaw time for easier scooping once it's been frozen for more than 6 hours.
To make floats, scoop the mango sorbet into a glass and top with a kombucha flavor of your choosing. Serve with extra crushed raspberries if desired.
Note:
If you want to give this healthy dessert even more upgrades then of course you could always sprinkle beeya on top for some crunch. We love beeya on ice cream; it's like hormone healthy sprinkles! You could also add collagen powder to the mango sorbet while it's blending, or some fresh ginger for even more gut-boosting superfoods and a bit of zing!