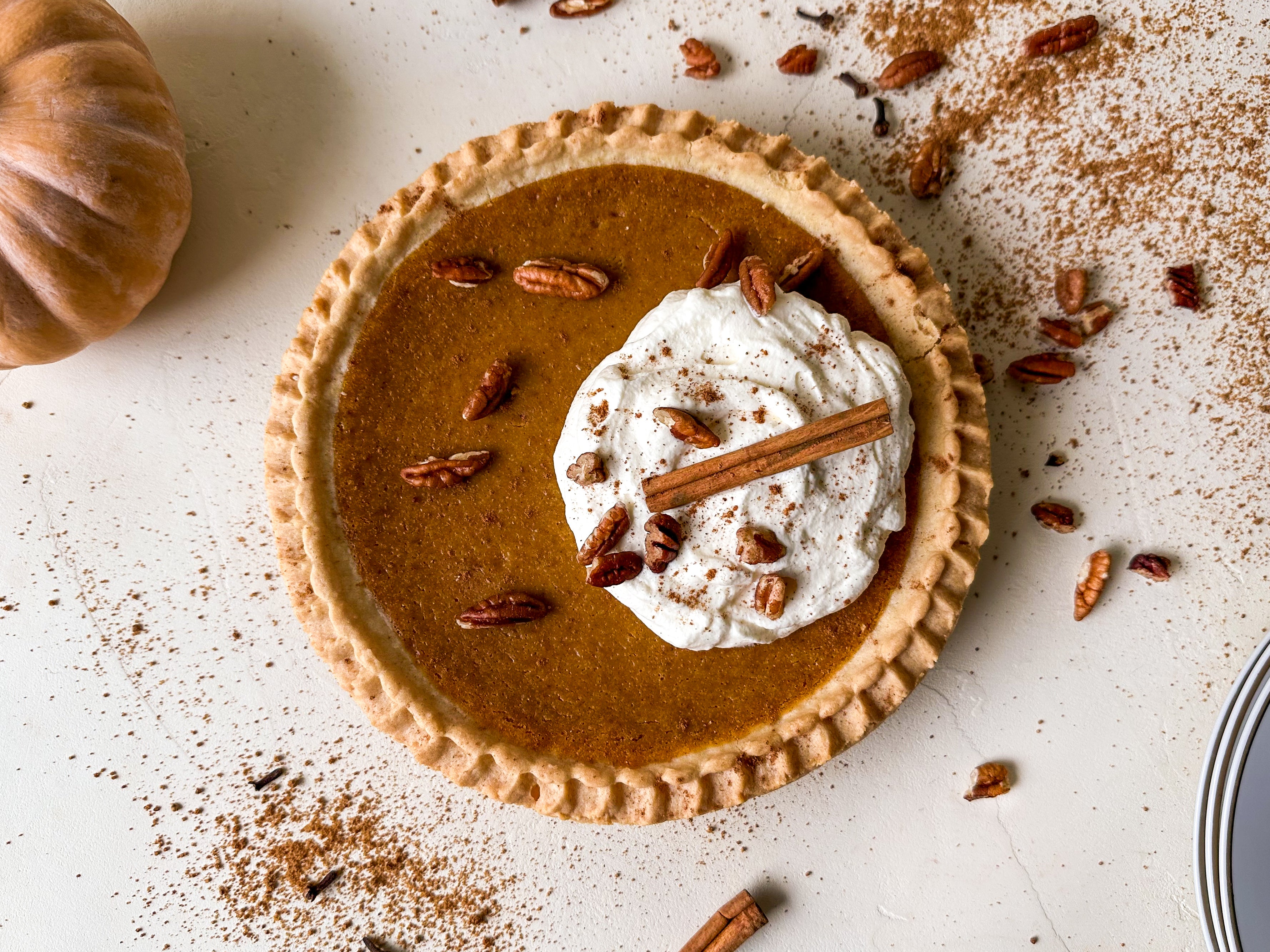 November 05, 2023
Homemade Pumpkin Pie Recipe
Gluten-free naturally sweetened autumn in every bite.
Fall is in the air, and there's no better way to embrace the season than with a slice of our Homemade Pumpkin Pie. This isn't just any pumpkin pie; it's a labor of love, carefully crafted to perfection. We're willing to share our secret recipe with you, with one little condition - you mustn't forget the most crucial ingredient ... love.
Not only have we managed to master a gluten-free crust, we've also swapped processed sweeteners for natural ones. Just remember to infuse it with extra love!
Makes: 1 pie
Prep Time: 20 mins
Bake Time: 60 mins
Ingredients:
Crust:
¼ cup almond flour
½ cup oat flour
¼ cup sorghum flour
¼ cup cornstarch
2 Tbsp coconut sugar
½ tsp sea salt
8 Tbsp (115g) cold unsalted butter
4 Tbsp ice water
1 tsp apple cider vinegar
Pie Filling:
2 cups pumpkin puree
½ cup coconut cream
¾ cup maple syrup
3 eggs
2 ½ tsp pumpkin pie spice
1 tsp fresh grated ginger
2 tsp vanilla extract
Instructions:
To prepare the crust, combine all the dry crust ingredients in a food processor and pulse to combine. Then add small cubes of cold butter and pulse several times to achieve a coarse crumble texture.
Add 4 Tbsp of ice water + the apple cider vinegar. Pulse until the dough just starts to come together. It should be crumbly but hold together when squeezed.
Divide the dough into 3 piles on parchment paper. Gently gather each pile into a loose ball, avoid over handling, you want the butter pieces to remain intact. Then stack each ball on top of each other and press down to slightly flatten into a thick disc. 
Roll out the disc of dough between parchment papers using a rolling pin to about ½-inch thick, sprinkle with oat or sorghum flour as needed.
Fold the crust into thirds, like a long rectangle. Then cut across the middle and stack the two folded halves on top of each other. Roll the dough out one more time to the size needed for a 9-inch pie pan, using extra flour as needed.
Line a 9-inch pie pan with the pie dough and shape the edges as desired. Place it in the fridge or freezer for 20 minutes while preheating the oven to 400°F.
Once the oven is preheated, line the crust with parchment paper and add pie weights or dried beans to blind bake the crust. Bake in the lower part of the oven for 25 minutes. Then remove the parchment and weights, and bake for another 5-10 minutes until dry and lightly golden all over (cover the crust edge with foil to prevent over browning). Once done, reduce the oven temp to 350°F.
To prepare the filling, put all the filling ingredients in a food processor or blender and pulse until smooth.
Allow the crust to cool slightly before pouring in the filling. Once filled, transfer to the oven (covering the edges with foil) and bake for about 60 minutes, until the center is slightly jiggly but just set.
Allow the pie to cool down slowly at room-temp on a wire rack, this should help the center to finish setting. Then transfer to a fridge to chill overnight for the best pumpkin pie texture. 
Note:
For an extra touch on the crust, you can brush the crust with a bit of whisked egg white and sprinkle it with coconut sugar after it has finished the blind baking process, before you pour in the filling.