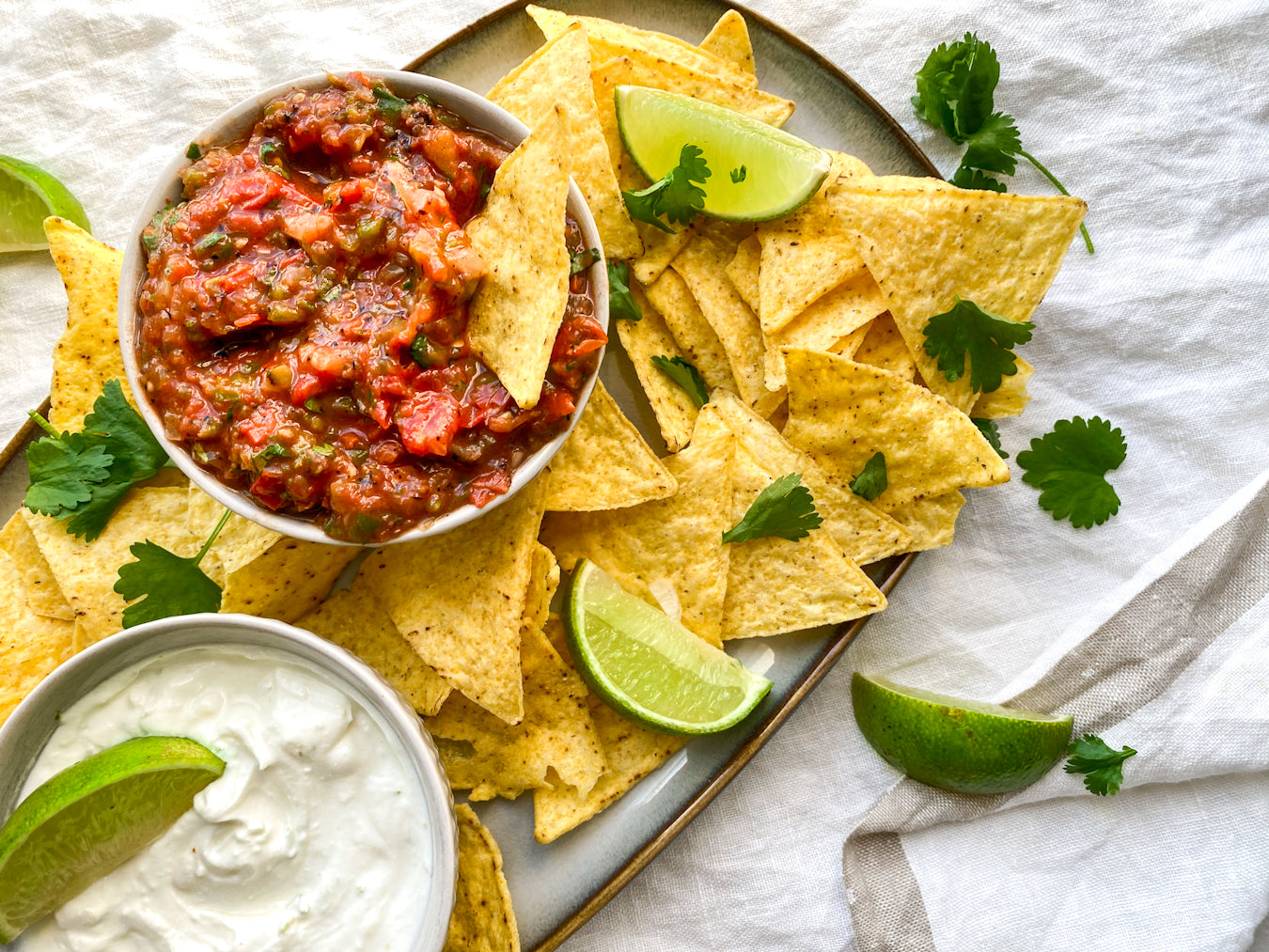 May 22, 2023
Fire Roasted Salsa with Lime Feta Creme Recipe
This salsa is on a level of its own, especially when paired with the epic lime feta creme.
Salsa and chips just got a fiery makeover with this must-try recipe! It's also a match made in heaven when combined with the lime feta creme - which adds so much more tang and flare than your basic sour cream. Plus, our creme uses Greek yogurt as the base which boasts probiotics for better gut health, a key component in having healthy hormones.  
Using salsa as a vehicle to get our hormone supporting beeya seeds in for the day also just so happens to be one of our favorites. Once you try it, you'll be hooked! 
Makes: 2 cups salsa
Prep Time: 10 mins
Cook Time: 10 mins
Ingredients:
Salsa:
1 ½ cups plum or cherry tomatoes

1 small yellow onion

½ poblano or green bell pepper

1 jalapeno or hot chili pepper

1 Tbsp olive oil

1 garlic clove, crushed

½ lime, juiced

½ cup fresh cilantro, chopped

sea salt

a drizzle of honey

tortilla chips for serving - see notes below for tips
Lime Creme:
½ cup thick yogurt (we used Greek style)

½ lime zested and juiced

¼ cup crumbled feta

A pinch of sea salt
Instructions:
Preheat your grill to medium-high heat.

Cut the onion into quarters, then cut the poblano (or bell pepper) in half, remove the seeds and cut into large chunks.

The easiest method to grill the veggies is to use a grill pan with slots or holes in it, this way you can just toss all of the veggies onto it at once, but if this is not available to you then you can thread the veggies on skewers and grill them that way. 

Toss the tomatoes, onions, poblano pepper, and jalapeno onto the grill pan. Brush everything with olive oil and season with a pinch of sea salt.

Place the vegetables on the grill and cook for 4-5 minutes on each side, or until they are slightly charred and just beginning to become tender. Remove from the grill and allow them to cool slightly before the next step.

Once cooled, combine the grilled veggies in a food processor along with the garlic and lime juice. Pulse in short bursts until you have the consistency of a slightly chunky salsa. Pour into a bowl then stir in the cilantro, and season to taste with salt and a bit of honey if needed, depending on how sweet your tomatoes are.  

For the lime creme, simply stir together all of the ingredients in a small bowl.

Serve the fire roasted salsa and lime feta creme with tortilla chips as a snack, P.S.

beeya

makes a great addition to salsa to boost the nutrition of your snack and pack in extra fiber and hormone nourishment!
Note:
When possible, we like to avoid foods made with inflammatory refined seed oils. This is why we love
Siete
tortilla chips because not only are they made with healthy flours like cassava and coconut flour, they also use avocado oil!