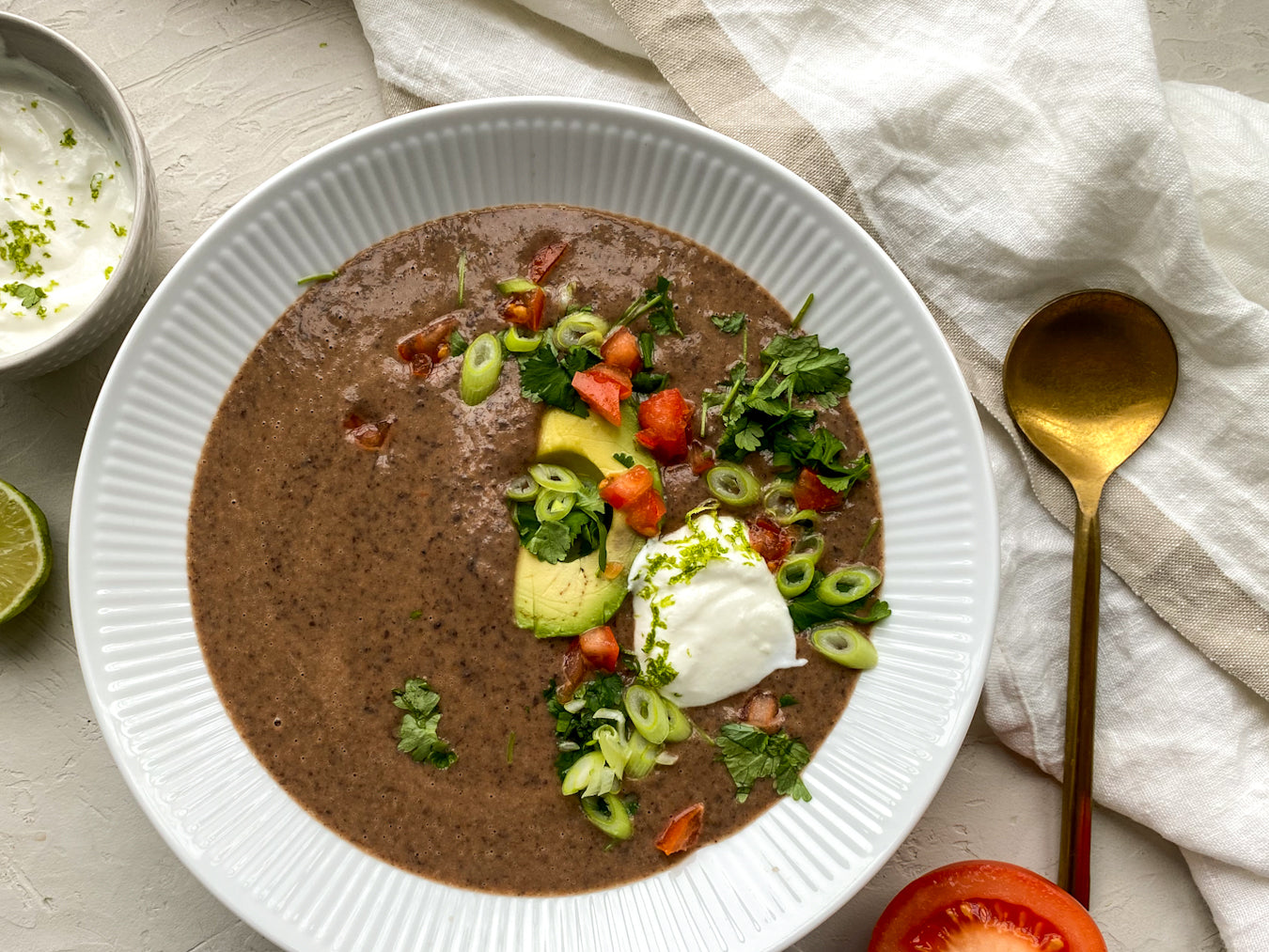 November 17, 2022
Cumin Spiced Black Bean Soup With Lime Yogurt Recipe
This bold flavored, lime yogurt swirled black bean soup is more seductive than it appears and full of fiber to keep you feeling nourished and satisfied.
Serves: 2 portions
Prep time: 18 mins
Ingredients:
2 Tbsp olive oil

1 medium yellow onion

½ chili pepper, minced

1 can of black bean, rinsed and drained

2 cups chicken broth (vegetable or beef work too)

2 Tbsp taco seasoning

sea salt and black pepper

1/2 cup thick yogurt 

1/2 lime, juiced and zested

1/4 cup sliced scallions

½ an avocado

¼ cup diced tomato

fresh cilantro
Steps:
Heat the olive oil in a pot over medium heat and saute the onions until translucent. Add the chili pepper towards the end to saute for a minute or two.

Pour in the black beans and broth into the pot and simmer for 10 minutes. 

Remove from heat, add the taco seasoning and use an immersion blender to mix until smooth.Taste and season with salt and pepper as needed.

To make the lime yogurt, simply whisk together the yogurt with the juice and zest of half a lime.

Serve the soup in a bowl topped with a swirl of the lime yogurt as well as sliced scallions, sliced avocado, diced tomato, and some fresh cilantro. Beeya also makes for a perfect topping on this dish if you haven't yet had your daily scoop of hormone support.