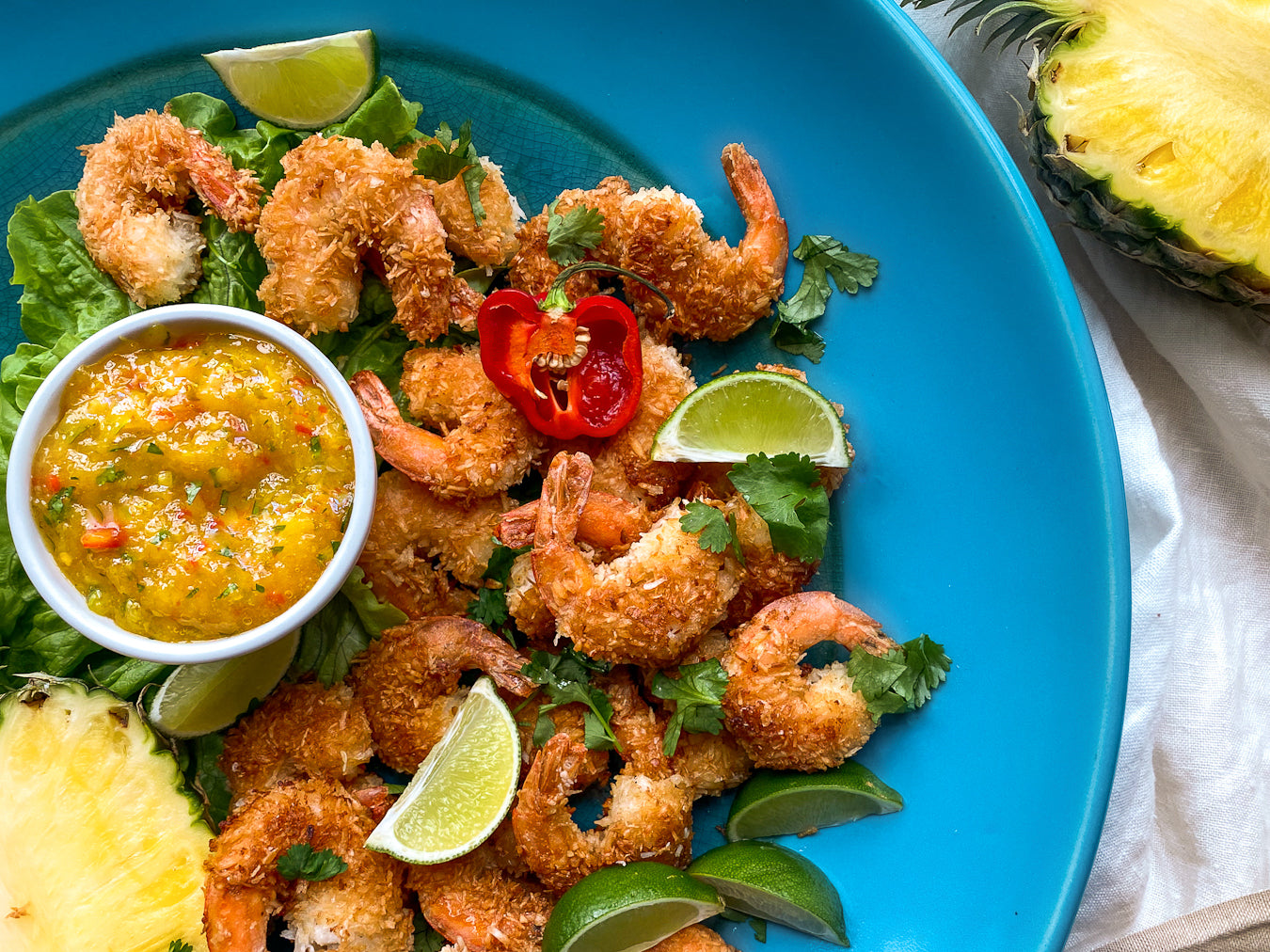 April 29, 2023
Crispy Coconut Shrimp with Pineapple Salsa Recipe
Your appetizer game will be forever changed! They're that good!
Transport your taste buds to the tropics with this week's recipe for Crispy Coconut Shrimp and Pineapple Salsa! 
The shrimp are coated in an easy gluten-free coating that crisps up to golden perfection and the pineapple salsa adds a refreshing twist to the dish with its zesty sweetness. 
There's more… This coconut coating technique is versatile and can be used with other proteins like chicken and fish. Check out our notes below for more fun ideas on how to enjoy these island-inspired flavors all summer long.
Whether you're indulging in a luxurious starter for yourself or serving it as party food with friends, one bite of this dish will transport you to a beach paradise.
Makes: 4 servings
Prep Time: 15 mins
Cook Time: 15 mins
Ingredients:
Shrimp:
⅓

cup cornstarch

2 egg whites

1 ½ cup finely shredded unsweetened coconut

sea salt and white pepper for seasoning

1 pound peeled uncooked shrimp (21 to 25 count), with tails attached

⅓ cup olive or avocado oil for for frying, plus more as needed
Pineapple Salsa:
1 cup chopped pineapple (frozen works great)
½ chili pepper, such as serrano, jalapeno, or habanero
1 lime, juiced and zested
1 garlic clove, crushed

2 Tbsp honey

¼ tsp turmeric (optional for boosting color)

¼ cup water

1 tsp cornstarch

⅓ cup chopped cilantro

lime wedges as garnish
Instructions:
Combine the cornstarch with a pinch of sea salt and white pepper in a shallow dish. In another shallow dish, whisk the egg whites until frothy. In a third shallow dish, place the shredded coconut and add a pinch of sea salt.

Using the tail as a handle, dip each shrimp in the cornstarch mixture, shaking off any excess. Then dip the shrimp into the egg whites, allowing any excess to drip off. Finally, coat the shrimp in the shredded coconut, gently press the coconut onto the shrimp to adhere. Place aside on a plate and repeat until all shrimp are coated. You can also be less precise and work in batches of shrimp, about 5-7 at a time, rather than holding the tail.

Heat the oil over medium-high heat in a medium skillet. Working in batches, add the shrimp to the skillet and cook until golden brown and crispy, about 2-3 minutes per side. Using a slotted spoon, transfer the shrimp to a paper towel lined plate.

To make the pineapple salsa, combine the chopped pineapple, chili pepper (choose which one depending on how spicy you like your food), lime juice and zest, garlic, honey, and turmeric in a small saucepan. Bring the mixture to a boil over medium heat then reduce to a simmer and cook for about 5 minutes (Note: if your pineapple chunks are very large, give them a rough chop before cooking them).

After 8 minutes you can either puree the salsa in a blender or by using an immersion blender. Mix until some texture remains but it is mostly smooth. Return the salsa to the saucepan and return to the heat.

In a small bowl, whisk together the cornstarch with the 3 tablespoons of cold water until smooth. Pour the cornstarch mixture into the simmering pineapple mixture while whisking and continue to cook until it has thickened, about 1 minute.

Remove the salsa from heat and stir in ½ of the chopped cilantro.

Serve the crispy coconut shrimp on a platter with the pineapple salsa on the side for dipping. Top with extra cilantro and lime wedges if desired. Enjoy!
Note:
This coconut coating technique (using egg whites and cornstarch) works for other forms of protein too! For example, you can use it on cubes of cod and make tropical fish tacos, or you can use it on chicken breast and make an islandy rice bowl (kind of like a poke bowl), just add some veggies such as cucumber, green onion, and bell pepper. And P.S. Don't forget the pineapple salsa to either of them!