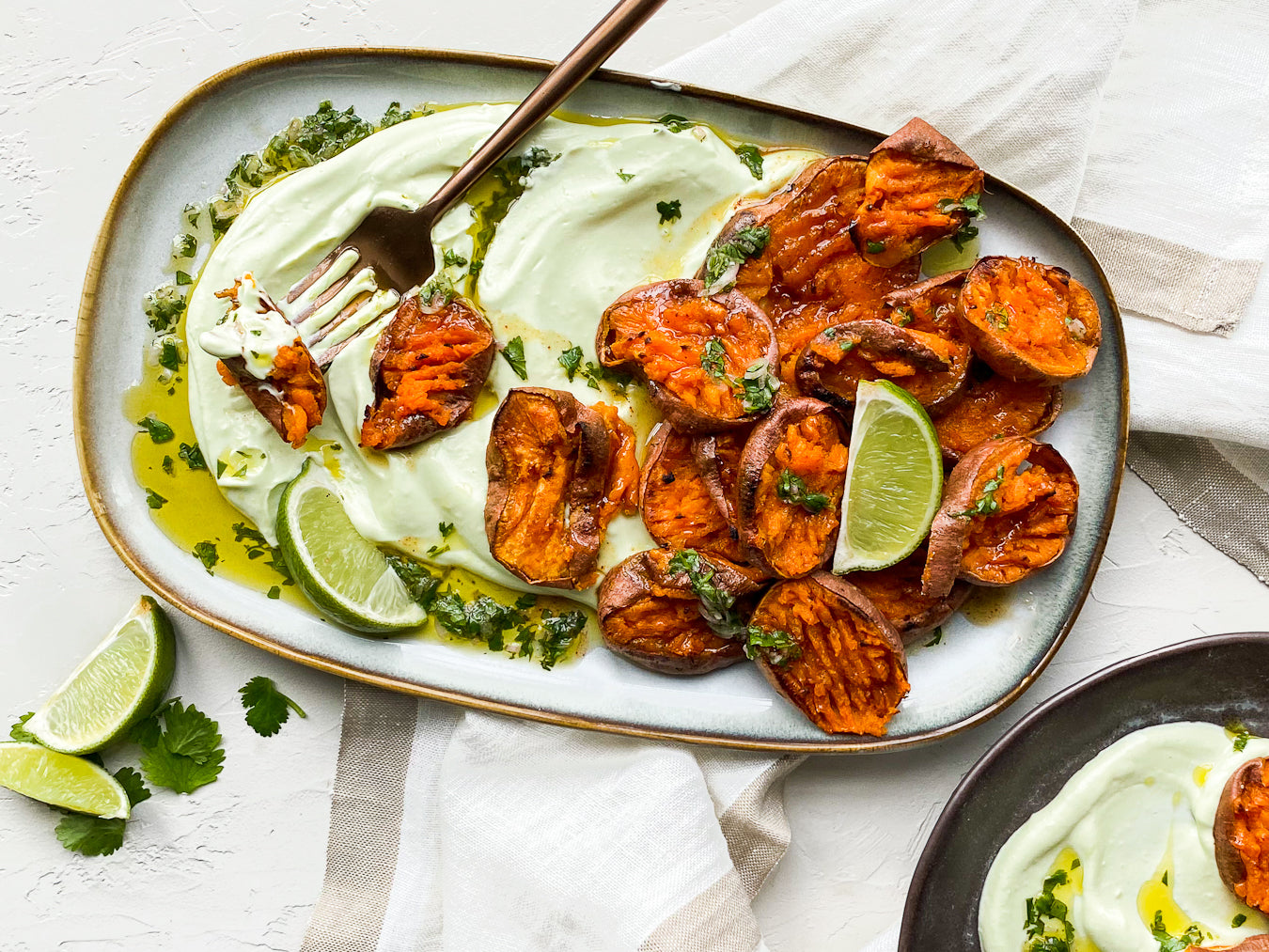 April 16, 2022
Chipotle Honey Smashed Sweet Potato & Avocado Mayo Recipe
THE most delicious way to get some healthy complex carbs into your diet for healthy hormones!
Serving:  4
Prep time: 10 minutes
Cook time: 25 minutes
Ingredients: 
Smashed Sweet Potatoes
4 medium sweet potatoes
1 Tbsp olive oil
Pinch of Sea salt

Chipotle Honey
2 Tbsp ghee or butter, melted
2 Tbsp honey
1 tsp chipotle powder or chili powder
Pinch of chili flakes

Cilantro Lime Vinaigrette
1 Tbsp lime juice
1 small shallot, finely diced
2 Tbsp olive oil
2 Tbsp cilantro, chopped
Pinch of sea salt



Avocado Lime Mayonnaise



1 avocado
1/2 lime, juiced
1/3 cup avocado oil mayonnaise
1/3 cup thick yogurt or creme fraiche
Pinch of sea salt
Steps:
Slice the sweet potatoes into ½ inch thick rounds.

Place on a parchment paper lined baking sheet and toss with olive oil, sprinkle with salt and bake at 400F/200C for 20 mins or until pierceable with a fork, then remove from the oven.

Switch the oven to broil. Stir the chipotle honey ingredients together in a small bowl.

Smash each potato slice lightly with a fork then drizzle with the chipotle honey. Whisk all of the vinaigrette ingredients together in a small bowl.

Return the sweet potatoes to the oven and broil for 5 minutes until they begin to show a bit of color.

Drizzle the smashed sweet potatoes with the cilantro vinaigrette.

To make the avocado mayo, combine everything in a tall bowl and mix until smooth with a hand mixer.

*For a nicer presentation, swirl the avocado mayo out on a platter and top with the smashed sweet potatoes, then drizzle with the vinaigrette.