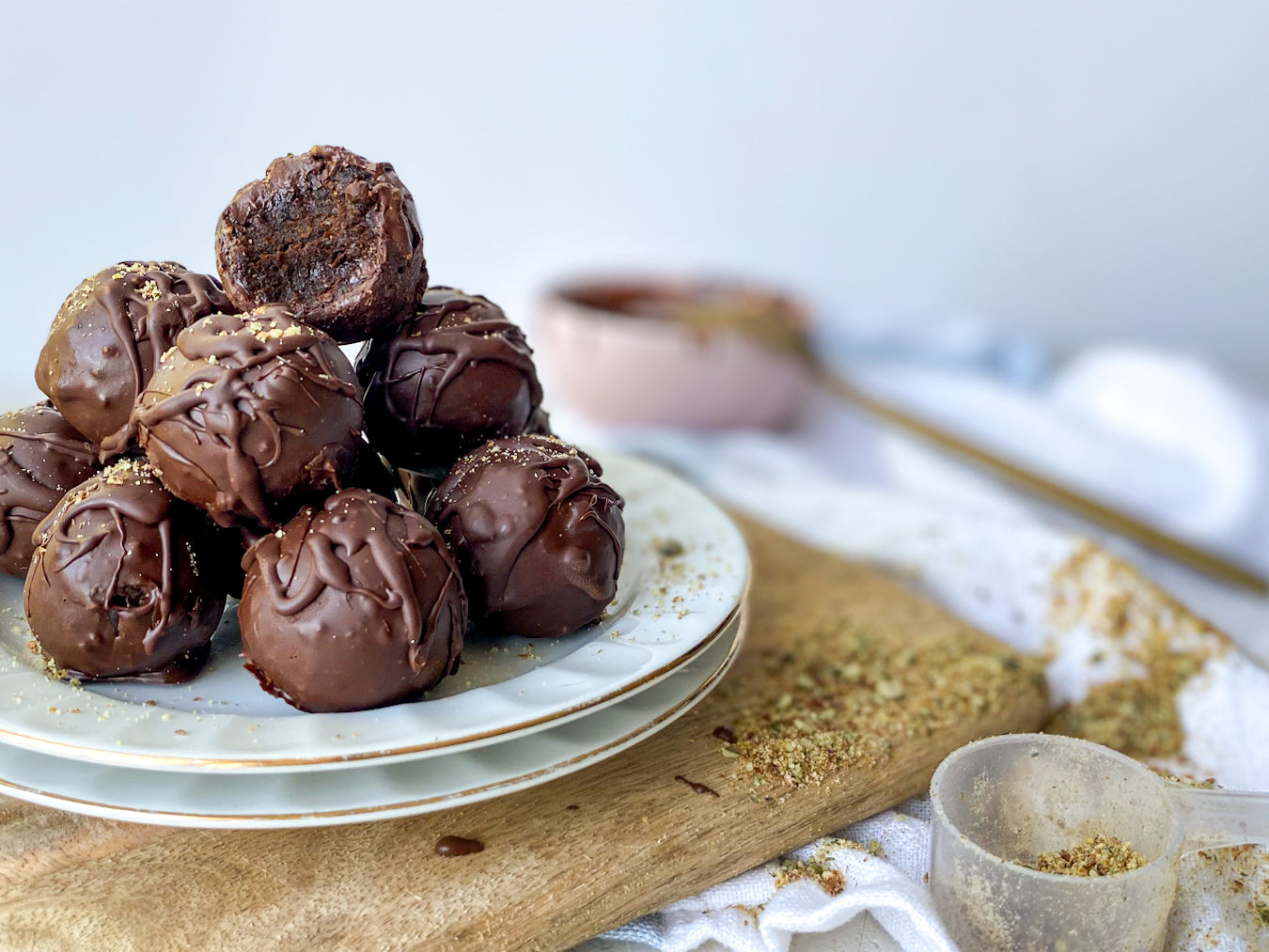 June 04, 2023
Brownie Batter Protein Bombs Recipe
PMS busting superfoods in every bite of these chocolate lover's dream.
Eating for healthy hormones doesn't get much more delicious than this week's recipe! Brownie. Batter. Protein. Bombs. They're delectable delights that make seed cycling for happy hormones the highlight of your day.
Seed cycling involves rotating four types of seeds (yes, seeds!) throughout the month to support the balance of estrogen and progesterone and support the reduction of symptoms that come with PMS, perimenopause, menopause, and beyond. 
By harnessing the power of seeds and their nutrients, seed cycling aims to regulate hormonal fluctuations and alleviate symptoms such as bloating, mood challenges, cravings, irregular periods, PMS, and hormonal acne.
At beeya wellness, we've carefully formulated our organic, third-party tested Phase One and Phase Two blends to make seed cycling effortless and more effective. Now you can include this practice into your routines with one simple and convenient daily scoop. 
Curious to learn more about the powerful benefits of these tiny seeds? Read hundreds of reviews and learn more here. 
Now, without further ado, let's make these brownie bombs! 
Brownie Batter Protein Bombs
Makes: 8 
Prep Time: 10 mins
Chill Time: 20 mins
Ingredients:
½ cup chickpeas, rinsed and drained

1 tsp vanilla

3 Tbsp maple syrup

4 scoops

beeya

, divided

¼ cup peanut butter

2 Tbsp cacao

Pinch of sea salt

¼ cup melted dark chocolate
Instructions:
Combine the chickpeas, vanilla, maple syrup, 3 scoops of beeya (reserve 1 for the coating), peanut butter, cacao, and sea salt in a food processor. 

Mix until smooth, you may need to scrape down the sides during the process. 

Scoop and roll the chocolate chickpea mixture into 8 balls, place on a parchment paper lined plate and transfer to the freezer for 15 mins. 

Stir the remaining scoop of beeya into the melted dark chocolate (if your chocolate is very thick then it will help to add 1 tsp of melted coconut oil for easier dipping), then coat each brownie bomb in the chocolate beeya mixture. Place back on the paper lined plate, drizzle with any remaining chocolate and transfer to the freezer to set. 

Once set, enjoy as you please, each bomb contains a ½ scoop of beeya. They can be stored in the fridge for up to a week or the freezer for a month. 
Note: 
This recipe can be made with either phase of beeya. To learn more about seed cycling visit  www.beeyawellness.com and explore our resources, including articles, FAQs, and testimonials from women who have experienced the positive effects of our unique seed cycling protocol. We also offer a free hormones 101 guide.