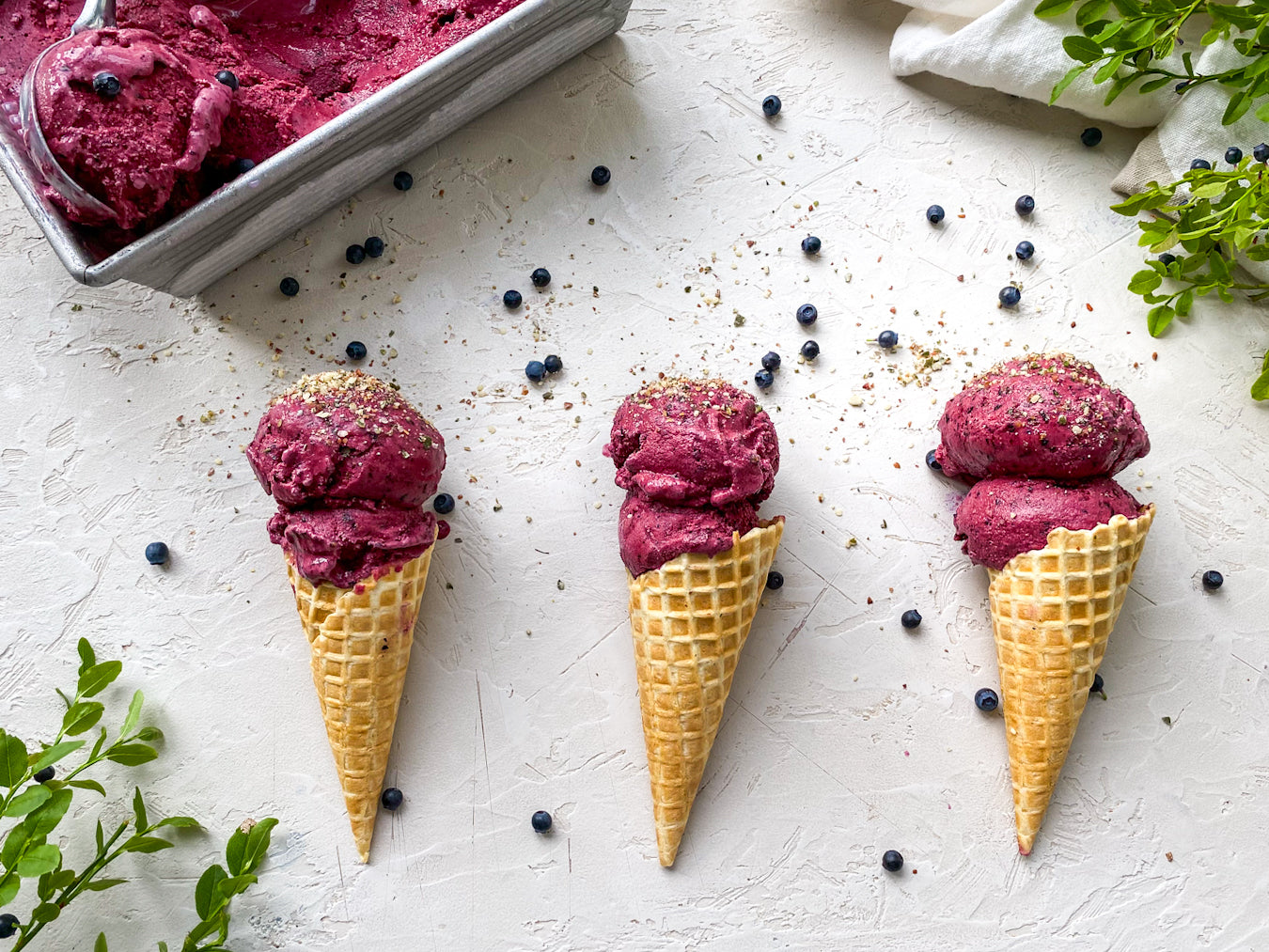 August 06, 2023
4-Ingredient Blueberry Fro-Yo Recipe
Discover frosty blueberry bliss - a naturally sweetened delight with just a handful of ingredients
Looking for a cool and delicious treat to beat the summer heat? Our 4-Ingredient Blueberry Fro-Yo is the perfect solution! Made with creamy Greek yogurt, antioxidant-rich wild blueberries, a touch of maple syrup, and a hint of vanilla, this frozen delight checks all the boxes to be gut and hormone healthy! Plus, it's super easy to make, and don't even get us started on the color! No worries if you're dairy-free; you can easily swap the Greek yogurt with a thick plant-based alternative.
Makes: 4-6 portions
Prep Time: 10 mins
Freeze Time: 3-4 hours
Ingredients:
2 cups Greek yogurt
1 cup frozen wild blueberries
4 Tbsp maple syrup
1 tsp vanilla extract
Gluten-free waffle cones to serve, if using
beeya, as sprinkles
Instructions:
In a blender or food processor, combine the Greek yogurt, frozen wild blueberries, maple syrup, and vanilla extract. Blend until smooth.
Pour the mixture into a freezer-safe container and freeze for 3-4 hours or until firm but scoopable. If you freeze the mixture longer, just make sure to allow it to thaw for a while before scooping. Alternatively, if you want to create more of a soft serve fro-yo - you can pour the blueberry mixture into ice cube trays, freeze for two hours until firm, and then mix in a blender until you have soft serve, sometimes you need a splash of milk to achieve this.
Once frozen, scoop the blueberry fro-yo into waffle ice cream cones or bowls.
Sprinkle with beeya if desired and serve immediately!
Note:
For a dairy-free option, you can use a thick plant-based yogurt as a substitute for Greek yogurt. You can also make popsicles out of the blueberry mixture if you prefer to have this treat ready to grab anytime, rather than waiting for it to thaw before scooping.